Carrack offers the prospect of a happy retirement...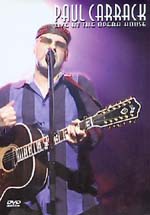 Like the recent Boz Scaggs DVD, you can't really knock this. However, unlike Scaggs, Paul Carrack has been working solidly since the early seventies, finding almost instant success with the hit 'How Long' and subsequently contributing to Squeeze and, latterly, Mike And The Mechanics.
He's also had a steady career as a solo artist. Perhaps the most revealing aspect of this DVD, a short interview with the man himself, tells us that Carrack doesn't listen much if at all to modern music and that his tunes are simple and in a 'traditional' format.
That just about sums up this concert, filmed in January 2004 at Buxton Opera House. Again, like Scaggs, Carrack knows his audience and judging from those interviewed for the 'before and after' gig sequence, they are almost exclusively forty-somethings who probably wooed, cuddled, and shagged to the Carrack Canon and - like sex - can't give it up that easily. But in all of this, modern idiom seems to be ignored. Classic songwriting, balladry and emotion, yes, but a distinct lack of the cutting edge.
This DVD should be snapped up by the faithful because it is a well-filmed and performed souvenir of Carrack's stage act featuring songs from current album, a few standards, and of course his best-known tunes with the Mechanics. Carrack reveals in the interview that he was influenced by The Beatles and Northern Soul; it is the latter style that is displayed here. From the smooth opener, 'Never Too Late' through to 'Where Did I Go Wrong' he is master of the soulful delivery and backed by a crack band it all sounds convincing if a little deja vu.
You can't help admire, though, Carrack's honesty. He gets out and about in the regions, directs his own record label and career, and family values are the priority. These are attributes with which an ageing audience can identify. If Carrack could also offer financial advice and foreign travel, he'd clean up.
***
Review by David Randall
Related>> Album Review (Mike & The Mechanics)