PAT BENATAR 'Greatest Hits Live' (King Biscuit KBCCD122) (2003)

This concert recorded for U.S. radio in August 1981 captures Pat Andrzejewski (aka Pat Benatar) at her rocking best. Arguably at the peak of her career in the early eighties, Benatar had a string of successful albums behind her and cornered the market in female raunch-rock. Highly commercial, visually and aurally appealing. she couldn't fail.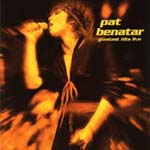 Pat's debut album, 'In The Heat Of The Night' spawned three US chart singles alone, all of which are included here. Her second album, 'Crimes Of Passion' featured 'Hit Me With Your Best Shot' (a song Pat herself referred to as 'over-played on the radio and over-performed by us') but got her a Grammy for best female rock vocal performance, whilst her third album 'Precious Time' consolidated business with the glorious title track and the humungous 'Fire And Ice' sending hot and cold flushes through the predominately male audience.
1981's 'Precious Time' might be seen as the pinnacle of Pat's career and was released a month before this concert. Although Pat ensured that female rockers would get a voice in mid-eighties America, motherhood took her out of the picture and by the time she made a comeback it was too late. An experiment with a non-rock album of jazzy standards didn't quite capture the spirit of old, and age and a changing marketplace took its toll. For those earlier halycon years, though, Pat was a rock queen and this rousing concert more than does justice to that memory. For those who want the complete picture, check out the excellent triple-CD retrospective 'Synchronistic Wanderings' (Chrysalis 1999).

****
Review by David Randall
Fire And Ice
© 2003 King Biscuit Flower Hour Records. All rights reserved.