OPETH 'Ghost Reveries' Roadrunner RR81232 (2005)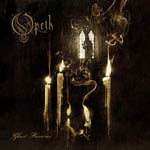 Over an already long career spanning seven releases, Opeth has managed to build a strong, fanatical following of metal and non-metal fans alike, starting out ten years ago with the sort that are tapped right into the metal underground and who notice any new bands showing promise on their first tour of Britain's lucrative toilet circuit.
As Opeth have gone along, they've slowly but steadily garnered more and more attention, accruing fans not only from the extreme and progressive metal fraternities, but also lately from more traditional progressive music backgrounds, this helped in no small part by Steven Wilson's (Porcupine Tree, No-Man, Blackfield) production duties and their "mellow" Damnation release of 2003, which saw them charting for the first time on the American Billboard album chart.
The year 2005 finds Opeth poised not quite for world domination, but certainly for making sure their name is on the lips of just about every metal fan who follows developments even casually. Following the absorption of their former label, Music For Nations, into the mighty black-hole that is BMG, Opeth was temporarily without a contract, and eventually signed to Roadrunner, the only real contender if they were to maintain the upward curve of their recent trajectory.
After the acoustic experimentation of their aforementioned 2003 release, initial assumption is that it's back to more familiar waters with Ghost Reveries, but the truth is that their sound has been expanded by the addition of former touring keyboardist and now permanent member, Per Wiberg (Spiritual Beggars). One thing to particularly strike me after my first listen is the confidence that singer / guitarist / creative force Mikael Åkerfeldt seems to have gained in his singing, wheeling out the "clean passages" (yes, he growls too, since this band's roots straddle many styles, one being death metal) more often than ever before.
All of the speculation after Damnation's release of Opeth's direction changing permanently to focus on the more commercially-viable acoustic / 70s prog sound has been thankfully proved wrong, and I say this not because Opeth doesn't do acoustic well au contraire, they do it more authentically, beautifully and with a fully-realised appreciation of the required compositional style than other bands could dream of – but because they've added yet more strings to their already-well-stocked bow and are continuing to meld seemingly uncongruous musical styles through the use of sudden, majestic transitions and occasional abrupt 180-degree shifts. It's these transitions, the moments that hold it all together, often achingly beautiful, that would be tragically lost if Opeth were to focus on one style.
The second song of the album, "The Baying Of The Hounds", opens with a riff accompanied by some lovely Green Carnation-esque Hammond work by Wiberg – the first real evidence that his addition is helping push this band even further forward. Halfway through the song, the Åkerfeldt ear is well in evidence, with an absolutely mind-bending, infernal-sounding chord progression that, with full orchestral backing, would sound fitting if it were one day used as the theme music to Satan's descent to Earth on a horse-drawn chariot, his minions having earlier discreetly placed speakers and a sound-system on a nearby rooftop.
Track three, "Beneath The Mire", opens with the sort of organ-led intro that one could imagine played in the marquee of a travelling freakshow by a naked midget sitting comfortably at his organ next to the spotlit stage. The singing on this track is a highlight, Åkerfeldt dazzling alternately with his vocal and guitar melodies. "Atonement" is another high point, with its peaceful keyboard-oriented ending that recalls Chroma Key's first album, "Dead Air For Radios".
"Reverie / Harlequin Forest" surges forward from the get-go with a relentless pace and scintillating, unhinged drumming by Martin Lopez, whose name is becoming increasingly well-known in drumming circles. "Hours Of Wealth"'s washes of keyboards slowly build, their cinematic quality adding a new dimension to Opeth's sound, not to mention the soulful, harmonised singing employed when the solitary verse arrives, and the Gilmour-ish, bluesy ending solos where it seems Åkerfeldt's almost deliberately avoiding the delay effect that, in the listener's (and Floyd fan's) mind, the solos seem to cry out for.
"The Grand Conjuration" was chosen by Roadrunner as the lead-off single for this album, which is a shame as it's probably the weakest track. The video that was filmed, however, wasn't all bad, featuring Gene Hoglan (Strapping Young Lad, ex-Death) on drums (Lopez had taken ill and flown home to Sweden) and a superb visual accompaniment to the heavy, growling section around the middle of the song which I can only describe as sounding like what you'd expect to hear if you listened in on the Devil singing in the shower. Opeth's guitarists again show inventive use of their instruments on this track, threatening to move into guitar-hero territory with their tapped solos.
The album closes with "Isolation Years", a more obvious choice for a single (if there had to be one at all) and another good showing by keyboardist Wiberg in creating atmospheres for his new band.
All in all, a good, strong release, but a criticism that has been (justly) levelled at this album and Opeth's "new" (-ish) direction is that the cold, sinister feeling that was there before, and relished by many, including me, seems to be gone. As this is their first recording as a five-piece, I am prepared to wait and see how things turn out next time and in the meantime I am just thankful that in the world of music, where often the most innovative and talented are the least successful, there seems to be some fair reward coming their way, and if that's the price of "selling out" by signing to a large label, most famous for having Slipknot on its roster, then so be it, I'm with Opeth.