NIGHTWISH - Highest Hopes The Best Of Nightwish
Spinefarm/Universal (2005)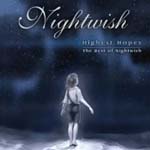 Nightwish gained the attention of the mases with their mega, 'Once', album. With that in mind, plus the band about to start what could be a lengthy hiatus, it's the perfect time for a best of.
With many new fans who picked up on the band with the 'Once' album, 'Highest Hopes', is the perfect way to catch up with, what was Finland's best kept secret.
Going all the way back to their underated debut album, 'Angels Fall First' from 1997, each of the band's studio album are all well represented. Even a completist Nightwish fan like myself, who already has everything they have done, can't find much fault with what's on offer here.
If you don't have any of the pre 'Once' albums this is one of those best of albums that is probably more or less what I'd put on my own compilation album. A quick introduction to Nightwish back catalogue will have you reaching for you wallet and searching for those older albums.
If you already all the Nighwish albums, then there's a couple of songs to tempt you into getting this.
A live version of Pink Floyd's, 'High Hopes' the only shning light from the very dull Division Bell album.
Bassist, Marco Hietala takes control of the lead vocals and with an obviously heavier version than the original, Nightwish do a grand job. The other item of interest, is a re-recording of the classic ballad, 'Sleeping Sun'. Nothing is added to the original, in fact I really can't hear much of a difference in the new version.
Various formats add a bonus DVD of live material. What are you waiting for ?
*****
Review by Graham Boyle