NICKELBACK 'All The Right Reasons'
Roadrunner (2005)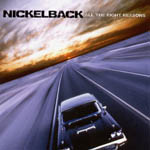 Commercial success is a fragile thing. Nickelback were relative unknowns before Silver Side Up touched a worldwide nerve propelling the group and Chad Kroeger briefly to 'can do no wrong' status. It was, and is a fine album.
But the follow up The Long Road bombed. Badly. It wasn't and isn't anything other than average. So All The Right Reasons is make or break time for Nickelback.
And it comes out of the corner like a wounded Mike Tyson - the opening track Follow You Home has the weight of Metallica and Chad sounds mightily pissed off. It doesn't sound like something conceived in the A&R department – it sounds like a band with a point to prove. The second track – Fight For All The Wrong Reasons follows in a pretty similar vein – great leaden guitar work, great vocals and a great all round delivery.
Unfortunately after this blistering start the album the albums descends into – perhaps with the exception of Side Of A Bullet – radio friendly rock. But that's not altogether a bad thing. What you get is loads of gravel vocals, big choruses and power chords. And truth be told, it's pretty damn compulsive – perfect for that top down moment. Every track is a potential single and the album closer - Rock Star - is a sure fire hit.
So a return to form for Nickelback. But it's a fickle public out there and too damn easy to go from heroes to zeros. Leave the spotlight – even momentarily – and it can be difficult to return. All The Right Reasons is a brave attempt, and is miles better than The Long Road. Whether it can propel Nickelback back to the dizzy heights of Silver Side Up we'll have to wait and see. But if they can come up with material like Follow You Home then maybe, just maybe, redemption beckons.
****
Review by Pete Whalley

Next Contestant
© 2005 Roadrunner Records. All rights reserved.
***** Out of this world | **** Pretty damn fine |
*** OK, approach with caution unless you are a fan |
** Instant bargain bin fodder | * Ugly. Just ugly
get ready to rock is a division of hotdigitsnewmedia group
Why should I buy this CD?

It's better than The Long Road
Burn baby burn

1. Follow You Home
2. Fight For All The Wrong Reasons
7. Next Contestant