NEIL ARDLEY 'Kaleidoscope Of Rainbows'
Duskfire Records DUSKCD101 (2005)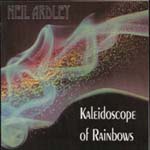 Neil Ardley was one of our foremost jazz fusion composers and arrangers. He went on to the great saxophone in the sky in February 2004 leaving a legacy of innovation and creativity.
Whilst British Jazz is currently undergoing something of a renaissance, it is artists like Ardley that were right there in the thick of it in the renascent sixties and seventies.
'Kaleidoscope of Rainbows' formed part of a trilogy that started with 'Greek Variations' and continued with 'Symphony of Amaranths' (originally on the prized Regal Zonophone label).
Whilst 'Harmony of the Spheres' in 1979 was perhaps Ardley's most accessible work, 1976's 'Rainbows' is considered his best.
There are seven movements, starting with a simple hypnotic bass riff courtesy of Dave McRae and embellished with Ian Carr and Brian Smith's funky horns.
Rainbow Two is more introspective with cello and electric piano motifs providing the mood, whilst Rainbow Three has a funky urgency with Paul Buckmaster's electric cello providing a semi-Mahavishnu Orchestra flourish.
Rainbow Four is a fine showcase for Barbara Thompson's soprano sax - Thompson contributes a liner note, stating that 'Neil will never die', such is his influence.
The recording quality is fantastic, a real tribute to the original engineer Martin Levan and all the instruments are crisp and well placed in the mix.
The list of musicians reads like a who's who of British Jazz at the time (essentially Ian Carr's core band Nucleus). Whilst this album has been reissued on CD before, there is no doubt that aficionados will have to buy it, because it is the best remastered and repackaged version. In addition to Thompson's tribute there is a fine overview from Peter Muir (who points out Ardley became a successful children's author in the 1980s and 90s) and Ardley's own liner to the original album.
You don't have to be a jazzer to appreciate this, but it is an intense experience which demands attention and probably not a casual listen.
***
Review by David Randall


Prologue/Rainbow One
© 2005 Duskfire Records. All rights reserved.