MOTORHEAD All The Aces - The Best Of Motorhead
Castle CMFVF1295(2006)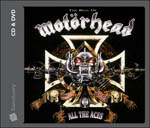 Motorhead's music has been repackaged a million times and should need no introduction. This compilation covers the period up to 1984; all classic stuff. Any album that kicks off with the Ace Of Spades and features Motorhead, Iron fist, Overkill and Bomber is essential.
If you're not familiar with this music, in fact if you don't have it in your collection, you have no right reading a rock news group. Simple fact and no mistake.
The accompianing DVD is a video issued many moons ago, and is a live compilation featuring Lemmy, Philfy and both Fast Eddie and Brian Robertson. Again Ace Of Spades, Overkill, Iron Fist and Motorhead all stand out.
This shows two important factors; firstly how good the underrated Iron Fist was, and secondly how good and technically proficient then Robertson line-up was. Musically Brian kicked them both up the ass and "Shine" proves it. There's also the promo video to "Killed By Death", the first recording as a 4-piece.
Both discs thoroughly rock'n'roll and enjoyable to the end
*****
Review by Joe Geesin