MOTORHEAD Reissues Sanctuary (2006)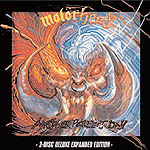 More re-remasters I know, but these fully expanded versions really are definitive, and as heavyweight as the Motor Music engraved in the grooves. Coming from the mid 80s, these 3 post 'glory years' sets show how good the music continued to be, proving there was more in Motorhead's rock'n'roll than many critics would have you believe.
1983's Another Perfect Day, (Sanctuary SMEDD328 (48:06) (77:20)) featuring Scottish guitarist Brian Robertson (formerly of Thin Lizzy and Wild Horses), was perhaps the most musically accomplished move Lemmy ever made. The guitar work is fluid and superb all round, even if the subsequent tour was a disaster. For mixing riffs and solos, Brian really was it. You only have to listen to the title track and the classic 'Shine' (the latter one of the best Motorhead tracks ever) to realise this.
The second disc, featuring a live set from June 1983, shows Lemmy, Robertson and Filthy Animal at their noise grinding best, mixing new and old well. Again, 'Shine' stands out as well as any earlier track, without exception. *****
1986's Orgasmatron (Sanctuary SMEDD329 (35:39) (53:09)) was a very different set up, with Lemmy joined by former Saxon drummer Pete Gill, and guitarists Wurzel and Phil Campbell. One of Lemmy's finest moments, from the blues of Doctor Rock to the grinding classic of the title track. A new era and real gem. The Clarke years long forgotten, this was the start of full range sonic assault like never before.
Disc 2 features the usual b-sides and a live set from the 1984 Kerrang! weekend. Worth it for Killed By Death alone, a 'Drown your grandmother's complaints number' as Lemmy delicately puts it. ***½
The following year and Rock'n'Roll (Sanctuary SMEDD330 (35:05) (56:02)) summed up Motorhead in music and attitude, abeit in the extreme. With Filthy Animal Taylor back on the drum stool, everything is turned up to 11, even if it's not one of the Head's best.
Noted for Eat The Rich (a film to which featured Lemmy, and featured several Motorhead songs), a track that features some great slide guitar, the album is one of their more muscular.
More B-sides and a 1986 show fill the second disc. More motorheadbangers than you can ever delouse! ***½
These constant remasters will lighten your wallet; how many editions of one album, regardless of how classic, do you need? Largely, though, these are worth it for the packaging and extras.
Review by Joe Geesin