MOSTLY AUTUMN Storms Over Still Water
Autumn Records (2005)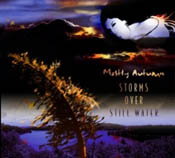 Mostly Autumn manage to sell out London's Astoria and have their albums make the UK albums chart. Previously they have been signed to Classic Rock Productions, also home to Uriah Heep, but now they have made the brave move of going it alone and setting up their own label.
Musically the band are oft compared to Pink Floyd, which I can hear in some tracks notably 'Candle In The Sky', that features wonderful arrangements and guitar soloing from Bryan Josh. But Mostly Autumn are no copycats as they have developed their own musical niche of well played and melodic progressive rock (that's progressive as in the music progresses with each album not classic prog like say Genesis).
The instrumental 'Coming To…' sees the guitar up front for a very heavy number, whilst 'Ghost In Dreamland' features some wonderful keyboards from Iain Jennings, who never drowns out the songs in waves of keys like some keyboard players like to do! The other 'secret weapon' in the band are the wistful vocals of Heather Findlay, who combines well with Bryan Josh's vocals as well as on her own.
Anyone who loves well crafted and more importantly melodic rock music should get this album pronto as the band deserve much more wider exposure than they have at the moment. Like Pink Floyd, Mostly Autumn can appeal to fans across musical genres and with a bit of luck this album will see them achieve this.
****½
Review by Jason Ritchie