Rock revolution in Moscow...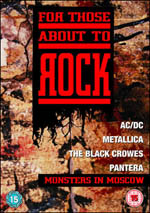 This DVD may seem like a bit of a cash-in, coming as it does in the midst of rock fest season.
But back in 1991, when this concert was filmed, half a million rock-starved fans enjoyed one of Moscow's early open-air rock concerts. And it was only a few days after a military coup failed to restore Communism to a newly democratic Russia.
Against that political backdrop, it is perhaps no surprise that the bands and crowd were swept along on a spirit of 'freedom' and 'rock n roll'.
Historically the gig is also important as it gives us a set by Pantera with Dimebag, two tracks from The Black Crowes, three from an on-form Metallica, and an energetic performance by AC/DC who truly captured the spirit with 'For Those About To Rock...'
As a rock spectacle, it's interesting if not perhaps essential, although completists of the respective bands will probably want to indulge. Shame that the opportunity wasn't taken to include unreleased footage, this is simply a reissue of the original VHS version.
There's something supremely fitting about the opening number, Pantera's 'Cowboys From Hell': as Dimebag's thrash chords and then Phil Anselmo's vocals cut in, their collective urgency encouraging insurrection or at least a flailing finger to authority.
Interspersed with a lot of crowd footage detracting from the main performances, and the Russian Army in a quandary, it does seem like a gig from another age. For die-hards and historians only.
***½
Review by David Randall