MO FOSTER 'Bel Assis' (Angel Air SJPCD151) (2003)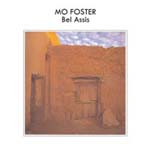 Hats off to Angel Air who have done punters a great service in recent years, releasing really obscure albums as well as current work from better-known artists. They have mined a rich vein with the likes of Ray Fenwick, Mott The Hoople and latterly, Mo Foster. Mo is the genial bass player who has lent his talents to any number of big-boy sessions and for a while was a regular in Jeff Beck's band. He's also written a very good book about British guitar music.
It is the influence of JB that comes through here, especially so with a track called Pump II which harks back to Beck's earlier creation on his album 'There and Back'. Guitar fireworks this time around are supplied by Gary Moore who demonstrates on two tracks just how technically proficient he is, supplying typically lyrical figures against a well-orchestrated backdrop.
Rod Argent and Peter van Hooke add colour on keyboards in what is essentially a musical journey and, as Mo Foster confirms, using electronic/sequencing instrumentation in a more natural way. It is, moreover, a series of musical sketches inspired by Foster's influences, the titles 'Gaia', 'Crete Revisited' and 'Jaco' (a poignant tribute to master bassist Pastorius) will give a clue. Several tracks are lifted by Stan Sulzman's soprano sax including the exquisite 'So Far Away' whilst 'And Then There Were Ten' owes something to Stanley Clarke with its funk fretless bass and pop-sensitive orchestration.
If you like dreamy and inspiring soundscapes you will adore this 1988 album, the playing by all concerned (including the great Ray Russell guitaring on most tracks) is faultless whilst Mo Foster's compositions are melodic and immediately listenable. What could have become a muso's offering with its head in the ether is highly accessible, slightly new-agey, but always enjoyable. It's a damn shame Jazz FM in the UK has taken the soul route, because Mo Foster's blend of smooth jazz to rock grooves would sound good on radio, preferably mobile with the hood down, late night. A rare treat.
Label website
Mo Foster website
****
Review by David Randall


£12.99
© 2003 All rights reserved.
Jaco
© 2003 Angel Air Records. All rights reserved.