Marillion lose their marbles on the road...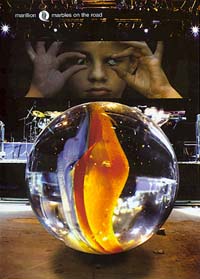 Excited about this live DVD on two counts - firstly I've just got a DVD player thanks to my kind wife and secondly having witnessed Marillion live a few weeks ago, I was keen to see how the London Astoria summer gigs went.
Filmed at the aforementioned gigs and part of the Marbles tour, which has seen Marillion back in the UK singles chart for the first time in over ten years. The whole of the 'Marbles' album gets aired including the fantastic 'Don't Hurt Yourself' and 'Fantastic Place' - two live highlights for me.
The camera angles are spot on and the sound is high quality, as you'd expect from the band. Encores include 'The Uninvited Guest', which strangely sounds tamer live than on record and one of the band's best Steve Hogarth era tunes, 'Cover My Eyes'. Needless to say the loyal crowd lap it up and join in heartily on the encores.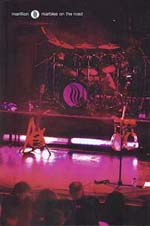 Bonus features are two videos for the singles 'You're Gone' (lots of marbles and white light effects over the band) and 'Don't Hurt Yourself' (live footage mixed with on the road tomfoolery), plus a short piece where all the band members talk about the making of the album.
For fans pretty indispensable and just right for a perfect Christmas present. For lapsed fans like myself, 'Marbles' heralds a return to form for the band and you'd be well advised to check this DVD and the CD out asap
****
Review by Jason Ritchie
Related>> Album Review