Two DVDs show old and new Marillion, a progster's delight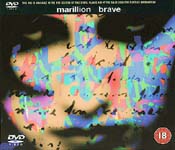 Brave (EMI 5997809) was indeed just that. Seemingly oblivious to record company needs, Marillion had a death-wish and went off to produce a veritable prog-fest in 1994. A concept album, which was inspired by the story of a teenage girl who was found wandering on the Severn Bridge in a state of amnesia.
Some ten years later, with the wonders of DVD restoring a visual and aural quality that was never available on VHS, 'Brave' makes more sense. It is essentially a long-form video with not much band, the visuals concentrating on the "girl" played by Josie Ayres.
Marillion's soundtrack, in context, is atmospheric and the album did produce some gems in the shape of 'The Great Escape' and the exquisite 'Alone Again In The Lap Of Luxury', although the DVD does omit several songs on the original CD. Fans will lap it all up, others may wonder what all the fuss was about. ***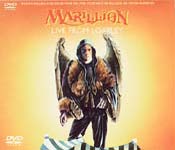 Live From Loreley (EMI 5997269) is more conventional, a live gig recorded in Germany in July 1987 whilst promoting then current album 'Clutching At Straws'. It is historic, in the sense that frontman Fish buggered off soon after. It therefore places a bookend to one chapter of the band's history and allows the faithful to indulge themselves in "pre- or post-Fish" band banter.
It's probably not an argument worth pursuing, because the Hogarth-era band effectively reinvented themselves. Marillion became less Gabriel-era Genesis and more, well, Marillion. However, the Loreley DVD shows just why Fish is a great frontman and it reminds us of the pre-Hogarth classics, not least 'Kayleigh', 'Lavender' and 'Incommunicado'. ****
Simplistically, the 'Loreley' DVD is the more accessible because it contains the hits. Disappointingly for those in the Fish-camp, this disc doesn't include any extras apart from a photo gallery, whilst 'Brave' has a 'making of' documentary with interesting band comment during the recording sessions. Both DVDs mark a band in transition: a year or so after Loreley Marillion were without a vocalist and after 'Brave' soon found themselves without a major label.
Review by David Randall
10 Questions with Steve Hogarth