MARGO BUCHANAN I Should've Done This Years Ago Bahookie Records (2006)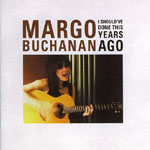 You may not immediately recognise the name, but you will have heard Margo Buchanan. Not in the spotlight, but her name is in the telephone books of the great and good of rock under 'backing vocalist extraordinaire'.
Personal tragedy has stymied Margo's solo career, but over her 30 years in the business she's worked with legends such as David Gilmour, Joni Mitchell, Eric Clapton, Tina Turner, Robert Plant, and Van Morrison. You'll usually find her stood shoulder to shoulder with Sam Brown - who she's written with, and she's also the backing vocalist of choice for up and coming artists such as James Blunt and KT Tunstall.
I Should've Done This Years Ago is aptly titled as Margo 'goes it alone' for the first time, ably supported by Wix Wickens, Miles Waters, and Robbie McIntosh. And as you might expect from such exalted company, the playing and vocal performances are exemplary.
The album is something of a 'throwback' to the singer-songwriter albums of the early 70's when the likes of Carole King, Joni Mitchell and Cat Stevens produced timeless albums of uncluttered simplicity.
For a decent singer-songwriter album you need two vital ingredients - a great vocalist and great songs. On the former, Margo's performance - rightly well up in the mix - doesn't disappoint. On the latter, all the songs but a cover of Traffic's John Barleycorn are self-penned and of a consistently high standard - from ballads, to gospel, to country rock, to smoky bar room blues.
It's quite unbelievable Margo was unable to get a major label deal to release the album. For now, its available via her website - www.margobuchanan.com - and will get an independent release in June to coincide with Radio2 airplay and press coverage.
Overall, this is easy listening pop/rock of the highest order, and therein perhaps lies the rub. There are moments when you just want a less than note perfect performance - something raw and visceral. But perhaps that's expecting too much from a woman who gives satisfaction every time - guaranteed.
****
Review by Pete Whalley