MAGGIE BELL Suicide Sal Angel Air SJPCD201(2006)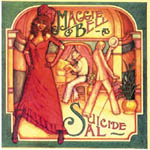 Bell's second solo album, recorded in 1975, was a real step up from her debut album, with a rockier live feel as much of the material had already been aired live; opener 'Wishing Well' (the Free classic) appeared as a live bonus on Angel Air's issue of that debut Queen Of The Night.
The Glaswegian and former Stone The Crows singer was on real form for this release.
The title track (misspelled 'Sale' in the booklet, a rare Angel Air mistake) is sung from the heart, a solid r'n'b number.
There are more soulful tracks here too, but Bell's voice is solid and suitably husky throughout.
'What You Got' is an all out rocker you can't help nod to.
The album features Led Zeppelin's Jimmy Page, and with the usual extensive notes and bonus tracks, it's a great and very worthwhile set.
****
Wishing Well
© 2006 Angel Air Records. All rights reserved.