MAGGIE BELL Queen Of The Night
Angel Air SJPCD200(2006)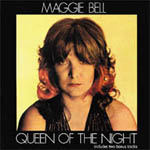 70s blues rock and funk at itís best! Singer Maggie Bell had formerly been in Stone The Crows (featuring guitarist Leslie Harvey), and this 1974 set is her debut solo album.
A rockiní set it is too, with the Glaswegian singer on fine form. Opener 'Cado Queen' is a full on number, while 'A Woman Left Lonely' is more of an RnB ballad.
Largely a covers set, one of the albumís standouts is the title track, written by former Crows pianist Ronny Leahy. Rich vocals bolstered by keyboards and horns.
Two bonus tracks are live renditions of 'Penicillin Blues' (once recorded by Leslieís brother Alex, a real earthy bluesy number, the 12 minute version here a little drawn out), and the Free classic 'Wishing Well'. Despite the poor recording quality theyíre a great listen.
***½
After Midnight
© 2006 JJ Cale/Angel Air Records. All rights reserved.