LORETTA LYNN 'Van Lear Rose'
(Interscope Records 2004)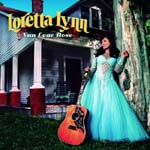 What is it with country stars of a certain age? First, Dolly does a truly awesome bluegrass version of Stairway To Heaven and now Loretta Lynn - a woman not 12 months away from being seventy, a grandmother to 29 children and with over 70 albums to her name - has made a pact with the devil. In this case, Jack White of White Stripes fame.
Imagine, if you will, the American Deep South. Itís circa 1972 and Zeppelin are on their tour bus late one night after a frenzied gig. Coming down the highway in the opposite direction, Loretta Lynn and her band are heading back to Nashville. The driver of one bus - it was never established which - is asleep at the wheel. The vehicles meet head on. There is carnage. Casualties. Paramedics are consigned to labelling body parts. But thereís enough blood and tissue left to reconstruct a band. Thankfully, Bonzo is fine, and John Paul Jones has only minor injuries. Jimmy seems OK, but Percyís developed breasts, a country twang and has no more need for Y fronts.
Yes, Jack White has deconstructed Loretta Lynn and has reassembled her as the front person for Zeppelin at their peak. This shouldnít work. But remarkably, it does.
Iíve only had the benefit of hearing a six-track sampler but on the strength of it I canít wait to hear the whole album. The title track starts off in traditional country style, and then the bass, drums and guitar kick in to supplement the pedal steel.
Itís the production of the bass and drums in particular that give a hint that this isnít just another country album. Portland Oregon (a duet with Jack) starts off with late sixties psychedelia then a huge Zeppelinesque riff kicks in. This continues through Have Mercy with its mighty blues riff and Loretta in immensely impressive vocal form. On Mrs. Leroy Brown you can hear the guitar amp buzzing before the groove cuts in and Miss Being Mrs. is a quite beautiful acoustic number, stunningly delivered and again bearing the Jack White Ď1970ís analogue equipment onlyí production hallmarks.
So whisper it quietly, Loretta Lynn rocks! This is seriously excellent stuff. And if you like The White Stripes, buy this - you wonít regret it. Iím not sure what Lorettaís C&W fans will make of it. But itís a brave and wonderful move.
****
Review by Pete Whalley