Fusion flavours and funk...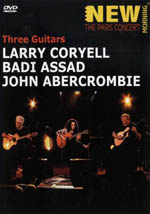 Another gig from the New Morning club in Paris, recorded in June 2004, and featuring the heavyweights Larry Correll and John Abercrombie.
Coryell was right there at the start of the jazz fusion movement in the early seventies, and is often confused with Larry Carlton. John Abercrombie has a similar pedigree and played with Billy Cobham on his important jazz rock fusion albums in 1974.
Badi Assad completes the guitar triumvirate, a talented Brazilian player who also adds vocal accompaniment. She also speaks French which is a real bonus.
The presence of Assad introduces South American and world flavours which probably stops some jazzy noodling in places, although on 'No Flight Tonight' her scat-singing approaches orgasmic proportions.
The opening piece, 'Ralph's Piano Waltz', two acoustics flurrying over Assad's rhythmic ground is superb and sets the high standard. This vibe is repeated on the excellent 'Timeless'. The set, a mixture of Abercrombie and Coryell compositions, will thrill both players' fans but any lovers of superbly executed jazz fusion won't be disappointed. ****
From jazz noodling to funk guitar, Johnny 'Guitar' Watson 'In Concert' is another archive gem from German TV.
Always better in front of a crowd, always larger than life, Watson cut his musical teeth back in the fifties and his flamboyant style influenced a generation of soul to R&B performers including, it is said, Jimi Hendrix.
Recorded six years before his untimely death in 1996 (during a comeback tour of Japan), things start to heat up on the second track 'Superman Lover' where Watson straps on his guitar and heads for the audience. His clipped bluesy tones recall a funkier Buddy Guy but sadly this gig is guitar-lite in places, Watson content to hold the mike and let the band swing.
When Watson lets rip on guitar, clipping those notes above the ultra tight showband, the result is impressive: 'A Real Mother For Ya' is the best example reprieved for a superb encore.
Of course, by 1990 he was to a large extent trading on former glories and his best known work was already over a decade old. Perhaps unsurprisingly this set is like an old-time soul revue (replete with roses for the ladies) and looks dated even for 1990.
The DVD is expanded with an earlier 'Gangster of Love' recorded in 1987, and we also get an interview with series producer Michael Au. Temptingly, there is also an index of all the shows produced under the 'Ohne Filter' brand and hopefully they will surface in the future. (names like Jethro Tull, John Martyn, Robben Ford, Rory Gallagher and Jeff Healey). ***
Review by David Randall