Larry and Luke at large in Paris...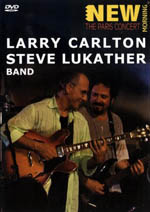 Two heavyweight guitarists came together in 2001 for this intimate club gig in Paris. Opening with Jeff Beck's 'The Pump', this DVD is a muso's treat even if Lukather's figures on this piece verge on, er, monumental fret-wank. It also helps if you like jazz fusion flavours.
Whilst Lukather brings a healthy raw element to the proceedings, Larry's stylings are more studied, more considered, more crossover.
Carlton played with jazz funksters The Crusaders and was in demand as a sessioner in the seventies notably with Steely Dan and Joni Mitchell. More recently, with Fourplay, he's trod the smooth jazz route. The only problem with this genre is that it can leave even a muso feeling numb.
This is Larry's gig and set-list, which is a shame as I'm sure Lukather fans would have salivated over some guitar-driven Toto workouts or even some more from his solo output.
In truth, it's all a bit safe as if Carlton in particular was trying to preserve sweat. Perfunctory workouts on the blues standard 'Red House' and the old Crusaders classic 'Put It Where You Want It' do nothing to dispel this.
Bonus features on this immaculately recorded DVD include soundcheck excerpts and interviews with the main men.
All in all, a guitar masterclass (tips included) that may leave the casual fan comatose. But, hey, at least Luke got to see the Eiffel Tower.
***
Review by David Randall