KATE BUSH 'Aerial' EMI 3439602 (2005)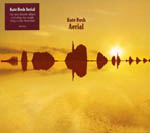 Kate's back. 12 years have gone by since she put the final polish on 'The Red Shoes' and 'Aerial' is much-awaited with high expectation.
But are expectations unduly high? Is it realistic to expect a return to form after so many years in the wilderness? We wouldn't expect it of a sportsperson, so is it fair to expect it of Kate?
If Kate has in the intervening period gone from sexy, slightly kooky, vamp to Earth Mother, she's also managed to pull off a remarkable comeback.
The welcome news is that Aerial really is a return to form. Maybe not to her heady commercial period, but it's a mature offering and easily her best album since The Hounds Of Love. And that's no mean feat.
The album opens with the single King Of The Mountain which just gets better and better with each listen. Pi pays homage to the ratio of the circumference of a circle to its diameter– who else could sing lyrics consisting of a string of numbers?
It's mad, its bonkers but it works wonderfully. Bertie is a baroque homage to her son. Mrs Bartolozzi is another highlight – a sensual love song conjured from domestic drudgery, the images painted by a washing machine.
Again it's hard to imagine anyone else having the eccentricity or ability to pull it off. How To Be Invisible is another corker and one of the more commercial offerings. Joanni is hypnotic and soothing. The Coral Room – a beautiful piano based number brings disc one to a close.
Disc two echoes back to side two of Hounds Of Love – a continuous piece made up of 9 'tracks' morphing seamlessly from one to the next. Three act as little more than links (although it would be difficult to dismiss them as such). But the real 'meat' comes in the remaining six tracks which demonstrate a new found song writing and vocal maturity, based for the most part around some glorious piano playing. Prologue is a gently orchestrated piece.
An Architect's Dream (featuring long time collaborator Rolf Harris) is magnificently dreamy. Sunset is another beautiful number which two thirds of the way through bursts into Mediterranean folk.
The final three numbers close Aerial on a sublime high. Somewhere In Between and Nocturn add a twist of jazz, the latter becoming increasingly urgent before Aerial rocks the album to a frantic close.
There's nothing on Aerial that's as manic as some of her earlier work. Her piano is very much to the fore and her voice has matured.
It's the English domesticity that comes across strongly on this album and Bush's originality. She doesn't really sound like anyone else, but Kate Bush.
As a consequence, this offering is going to please her original fanbase who will have also grown older and wiser. Others, too, may find 'Aerial' totally uplifting.