KALMAH The Black Waltz Spikefarm/Universal (2006)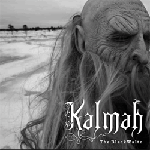 The Black Waltz is Kalmah's fourth album, while the previous three, have their moments, they were generally, very consistent, but not earth shattering. Before reviewing this, I listened to the back catalogue to refresh my memory of the Kalmah melodic death sound.
The biggest change in the Kalmah camp, is the vocals of, Pekka Kokko. Gone are his high pitched, almost black metal shrieks, replaced by a much lower end sound.
Think of Opeth's Mikael Åkerfeldt and add the tone and clear phrasing of Mikael Stanne from Dark Tranquillity and you have an idea of the new voice of Kalmah. The change is pretty drastic and you would even be forgiven for thinking that
Kalmah had recruited a new singer. But the change suits the music to perfection, with Kokko finding the new style more natural sounding than the previous style.
All this would be for nothing if 'The Black Waltz' was full of mediocre songs. Fortunately, it's the exact opposite, Kalmah have showed us that they are capable of delivering a killer album. The music draws from many influences, yet at times sounding like the true Kalmah sound.
The standard melodeath sound goes out the door from the grand opening of 'Defeat'. Fairly thrashing along, with some great guitar histrionics from the much underrated, Antii Kokko, add some twin harmony and keyboard interplay, with some great hooks and you have a song that sets the high standard, that doesn't drop.
Besides having plenty of music hooks, the vocal melodies carry along many of the songs and are as big a part of the brilliance of 'The Black Waltz' as the music is. Take a song like, 'To The Gallows', a killer song full, that has the best riffs and vocal melodies on the album, I couldn't get the song out of my head for ages.
Not a weak moment to be found on the entire album, this is the kind of melodeth album that doesn't come along very often. I am almost tempted to call, 'The Black Waltz', a classic. I don't expect anything to top this for my album of the year in this genre and overall, except maybe, the forthcoming Eternal Tears Of Sorrow album.