J.R. BLACKMORE Between Darkness And Light
Twilight 784-838 (2006)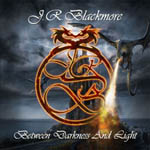 Son of Ritchie, JR has produced another great album. Dark, moody, classical metal, reminiscent of some European metal bands with more than nod towards the guitar playing of Blackmore Snr.
The guitar playing is excellent and integration with bass and keyboards is good - it's not a boring shred guitarist's solo album by a long way.
Largely instrumental, the playing and moods come through well. It's largely instrumental - the 'son in black' could do with a vocalist. But a damn good album. The guy should go far, even without inevitable comparisons to his father he's a bloody good guitarist and song arranger. And it's a lot better than the folk his father's playing too.
****
Review by Joe Geesin
Nine Lives
© 2006 Twilight. All rights reserved.