Josh isn't fat, doesn't smell of garlic and the ladies swoon ... b*****d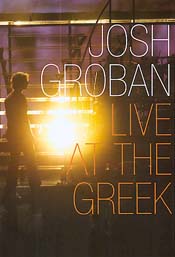 Only in America. A glorious forest setting after dusk on a warm summerís night. An expectant audience waving glow strips. All thatís missing is the ĎWalt Disney presents Öí signage. Itís sugar and sweet and wrapped up nicely for mid America.
But what gives. This is Pavarotti territory. Itís operatic, itís in Italian (and sometimes Spanish). But Josh isnít a fat guy smelling of garlic. Yes, he wears a suit. But hey, check it out Ė no tie and the shirt isnít tucked in! This guy knows how to do cool. Oh, and heís got a pretty boy perm and a twinkle in his eye. Plenty of Mums and teens out there swooning over Mr Clean Cut.
Josh first hit pay dirt with a guest appearance on Ally McBeal leading to two successful albums and more than 5 million sales. This DVD and CD package captures his summer 2004 performance at LAís Greek Theatre. Heís got a great band, and a great mini orchestra. And itís all beautifully played and presented. The DVD features 17 tracks and the cd a subset of eight.
Thankfully, he doesnít attempt vocals on an instrumental version of Bohemian Rhapsody, although he does have a stab at Paul Simonís America and Don McLeanís Vincent. Passable enough versions, but they donít add anything to the originals.
Sadly, this ainít rock and roll. Itís not even in the same galaxy. And his Ďlittle lost puppy dogí and ĎMr So Sincereí grimacing make for painful viewing. Naturally, heís multi instrumentalist. Why doesnít that surprise? And my wife likes him. No surprise there either.
Truth is, turn off the TV or just listen to the CD and thereís nothing extraordinary about the guyís vocal chords. Itís not unpleasant listening, but if he was short, fat and flatulent he wouldnít have a contract. Itís what the masses mistake for culture. Pass the sick bowl please.
***
Review by Pete Whalley