JOCK BARTLEY Blindside Winged Horse Records USA (2006)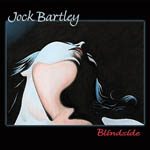 Too be honest, I never knew much about the U.S. band Firefall, other than their mega-hits from the '70s, like 'Just Remember I Love You' and 'You Are The Woman'. So when I received the new debut solo CD Blindside from Jock Bartley, guitarist and leader of Firefall, I wasn't sure what to expect.
Right off the bat, I was impressed by the stunning artwork that graced the cover of Blindside - Bartley is also an artist of merit and his artwork is currently featured in a new book entitled Beatles Art - Fantastic New Artworks of The Fab Four.
The second fact about Bartley's new album that struck my interest was the astonishing line-up of guest artists - a virtual Who's Who of 1970's rock music, like Richie Furay of Buffalo Springfield and Poco, Mark Andes of Spirit and Heart, John McEuen and Jimmie Fadden of The Nitty Gritty Dirt Band, Rusty Young of Poco, Michael Travis of The String Cheese Incident and Bob Harris from Frank Zappa and Warren Zevon, amongst other notable artists.
Upon listening to Blindside I became pleasantly surprised. The title track and first single from the CD 'Blindside' is a straight-ahead rocker with as catchy a chorus as a song can have! Track 3, 'Veronica So Fair' is a beautiful ballad, full of heart and soul.
Right away, one can see that Jock's not just a talented guitarist, but a prolific songwriter as well - this song truly could be a hit!
One of my all-time favorite Frank Zappa vocalists, Bob Harris, who sang on albums like Them Or Us and Thing Fish, sings lead on three tracks. Check out track 7, 'I Used To Say', if you want to see what dynamic range and power Harris possesses.
Song 5, 'Call On Me', is a real gem, and also a song of great importance, as it was originally written back in 1998 for Suicide Prevention. The song has become an anthem of sorts, and Bartley honorably is contributing a portion of the proceeds from the sales and performance of 'Call On Me' back to Suicide Prevention.
Other tracks that stand out on Blindside are 'It's So Hard', 'Economy' and the instrumental 'Just Let Go'. I strongly recommend Jock Bartley's new CD, which is available on the independent label Winged Horse Records, if you're into good honest rock and roll, with superior songwriting. Also check out the official website www.jockbartley.net for information on how to purchase the CD and updates on Bartley's activities.
****
Review by Billy James
---
| | |
| --- | --- |
| | Print this page in printer-friendly format |
| | Tell a friend about this page |