Classic 1973 film improved and expanded...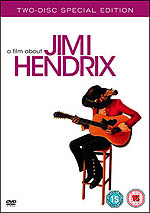 When it was first released, some three years after Hendrix died, this Joe Boyd produced film was well received. It brought together documentary and concert footage to tell the story of the master guitarist, from his humble beginnings through to the Isle of Wight Festival.
Along the way, we get a number of interviews with the key movers and shakers including Eric Clapton, Pete Townshend and various aides and acquaintances.
Thirty years after the phenomenon, the film serves as a reminder of Hendrix's awesome power on stage and his quiet and unassuming character away from the spotlight.
Clapton's contribution is particularly evocative, detailing Hendrix's impact on fellow musicians in the late sixties. Eric Barrett, a one-time road manager, recounts when Hendrix's trousers split whilst performing a concert in London, and frantically locating a safety pin. Hendrix fastened the pin whilst hidden behind the Marshall stacks, with Barrett 'improvising' on his guitar.
Fans will no doubt have a knarled video copy of this documentary, but the DVD will be an essential purchase for the bonus material.
We get what appear to be outtakes from the interviews conducted for the original movie, Eddie Kramer's deconstruction of the track 'Dolly Dagger' (similar to the 'Classic Albums'-type analysis) and a rare outtake from the Atlanta Pop Festival in July 1970, the previously unreleased 'Stone Free'.
The 1973 film was reissued in 2000 as 'The Jimi Hendrix Story'. Now, newly remastered with improved sound administered by Kramer himself, this is another essential addition to the Hendrix catalogue and may well be the definitive filmed account.
****
Review by David Randall