ISOLE Throne Of Void I Hate Records(2006)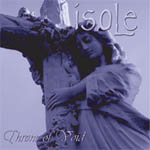 Following on from their debut album 'Forevermore', Isole have again come up with an album I adore. Since seeing them live last year I've been hooked on this band, reminding me as they do as some of my favourite bands, including Solstice and Candlemass. Slow, melodic, and heavy as those War Elephants Reverend Bizarre keep going on about* - just the way I like it!
Simply put, Isole play good music. Sure, it might not have lightning-fast galloping riffs or blistering solos but these guys know how to write an excellent tune and how to expand upon a basic idea. Starting with a riff they weave an entire track out of it using heavy chugging (of course), twin harmonies, tempo change, break-downs and vocal harmonies - simple, but effective.
The vocals are just gorgeous and they have some great sing-along choruses (pity my poor neighbours). They also know how to make each track unique and for me every track on 'Throne Of Void' is a classic.
Compared to their debut, Isole haven't changed a great deal but why fix what ain't broke? It's entirely a matter of taste - if you liked 'Forevermore' you're going to like 'Throne Of Void', but if not 'Throne Of Void' is unlikely to convince you. If anything 'Throne Of Void' moves on one stage further, missing out some of the trad metal riffage of its predecessor - or at least slowing it down.
It kicks off with an excellent re-working of 'Autumn Leaves'. 'Autumn Leaves' originally appeared on their 2001 promo, when the band were known as Forlorn, and Isole have made it even slower and heavier than the original. There's also the very catchy (and probably my favourite) 'Demon Green', followed by the poignant title track which would wring tears from the angels. The album drifts to an end on the funereal 'Life?' which is every bit as slow as Reverend Bizarre or Warning.
I'm sure there are people who won't have the patience for this album - it's not one for those of you who only like the faster stuff, but if you like it slower and a touch dreary check this album out, especially if you like it heavy too. It's a beautiful album - try it, you might like it!
*'Wrath Of The War Elephants' from 'Return To The Rectory'
***½
Review by Amanda Hyne
Band website
Label website
---
| | |
| --- | --- |
| | Print this page in printer-friendly format |
| | Tell a friend about this page |