HYDROGYN Bombshell Chavis Records (2006)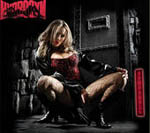 Hydrogyn, fronted by the good looking Julie (see website for pics!) have already charted on the Billboard Heatseekers chart in the US and after hearing this album you can see why.
Julie's vocal range is wide be it the gentle opening to 'Vesper's Song' or belting it out on the cover of AC/DC's 'Back In Black' she is a top notch vocalist.
It's like After Forever and Evanescence but without the goth trappings and more metal guitars.
'Breaking Me Down' and 'Confession' really get the old adrenalin pumping whilst 'Whisper' sees the band step down a gear producing an almost AOR sounding tune.
With Michael Wagener (Ozzy) in the production chair the album has a rich, deep sound and if you like female fronted metal/hard rock bands this album is a 'must have'.
Roll on album number two, but in the meantime catch them on tour in 2007 including UK dates in Feb and March!
****
Review by Jason Ritchie
18 And Life
© 2006 Chavis Records. All rights reserved.

---
| | |
| --- | --- |
| | Print this page in printer-friendly format |
| | Tell a friend about this page |
***** Out of this world | **** Pretty damn fine |
*** OK, approach with caution unless you are a fan |
** Instant bargain bin fodder | * Ugly. Just ugly
get ready to rock is a division of hotdigitsnewmedia group