HELLOWEEN 'Hellish Videos' DVD
Sanctuary (2005)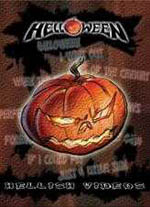 There are only a few bands that I know, which can claim to have a name that is easily recognised even by people who were never actively involved in heavy metal music. I don't know if that's because they have been recording albums for the last twenty three years, or due to the huge success they achieved during the late 80's, but Helloween are indeed one of those bands.
During the last twenty three years, the German metallers have witnessed the loss of their long time leader Kai Hansen and suffered the death of their original drummer Ingo Schwichtenberg (he committed suicide a year after being fired from the band), and even though both these incidents would have been enough to make any ordinary band lose faith and give up, Helloween continued recoding their albums and touring around the world.
Being a fan of this band was never an easy task though. There were quite a few occasions where some of my friends would have to work overtime in order to be able to afford the numerous singles, picture disks, patches and t-shirts that the band was constantly releasing. One thing that Helloween never did, to our great surprise, was to release a collection with their promo videos which resulted in us having to stay awake till 1 o'clock in the morning, watching the Baley brothers on MTV, hoping to be able to film either one of "Halloween" or "I Want Out" videos.
Well, it took Weikath (guitars) more than one and a half decades to realise that this is something that the fans of Helloween would really be interested in, and with the involvement of Andy Deris (vocals), Sanctuary Records is about to release the first ever collection of the band's promo videos, with the quite fitting title "Hellish Videos".
I was indeed quite pleased to have received a promo copy of this release from Sanctuary music, but I'm afraid that, apart from the actual context of the DVD, I am not in position to give you any further details regarding the actual format, since I received this DVD in a simple white box. What you will be able to find here is the band's thirteen promo videos, a photo gallery, the band's tour outtakes as well as a promo video for "Hey Lord" which is not a live recording as it is advertised on Sanctuary's press release document.
Now, even though I was really pleased to finally get my hands on all of the band's videos, I really cannot say that I am totally satisfied with this release – why? Just take a look at some of the DVDs that have been released in the last couple of years. While most of them have a variety of different extra features like the band's biography, interviews with the members, guitar tablatures, lyrics, etc, "Hellish Videos" has none of these extras and it's only just one hour long! I am sure that a band that has been around as long as Helloween, would have been able to release something more special for their fans – a release that would also be capable of converting new people and giving a better idea of what this outfit has achieved throughout the years.
I am afraid that both my love for songs like "Halloween", "I Want Out" and "Power", and the beautiful memories that came to mind from watching them again after all these years, were not strong enough to convince me that "Hellish Videos" was the best thing that Helloween could come up with. Helloween fans will really appreciate it for what it is, the ultimate 'best of', but I am sure that even the most loyal of them would have expected to have a few more things thrown into the pot.
***½
Review by John Stefanis