HAPPY MONDAYS 'Greatest Hits'
London 556 105-2 (2005)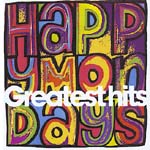 Formed by the Ryder brothers, Shaun and Paul, the Mondays were at the forefront of the Madchester music phenomenon - when Manchester and more particularly the Hacienda club was at the centre of a new musical universe in the late eighties, early nineties.
Their music, a genre-bending mix of dance, indie, funk and psychedelia freely plundered common musical stock. And it's all here. This set includes 'Step On' (1990's take on John Kongos' 'He's Gonna Step On You Again'), 'Staying Alive', and 'The Boys Are Back In Town'. 'Kinky Afro' repeats Labelle's 'Lady Marmalade' hook and got them a Top 5 hit in 1990. The late Kirsty Maccoll supplies the distinctive vocals to 'Hallelujah' which was a Christmas hit in 1989 and sounds as infectious and trippy as it did then.
For a time in the early nineties, it looked as if Happy Mondays would carry the baton handed by Stone Roses. However, the Madchester scene collapsed and the Mondays with it, although they reappeared briefly at the end of the decade.
With frontman Bez now a reality TV celebrity and the '24 Hour Party People' biopic in 2002 reviving the Factory Records story of which the Mondays was a significant part, it may still be timely to revive this collection, first released in May 1999.
***
Review by David Randall
Kinky Afro
© 1999/2005 London Records. All rights reserved.