GUY CHAMBERS & SOPHIE HUNTER
'The Isis Project' (2005)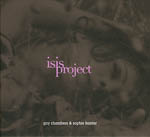 Guy Chambers has impeccable credentials – World Party, song writing driving force behind Robbie. So what of his latest project – a non English-speaking concept album?
The Isis Project is a long-term labour of love started back in 1999 – an album exploring a woman's life from childhood, through adolescence, love, middle age, and eventual decline. It was co-written with French songwriter Keren Ann Zeidel, all vocals being supplied by actress Sophie Hunter.
Well, first off, French isn't a strength of mine. While at school I managed to fail the then obligatory French language CSE. Which I count as something of an achievement, as they awarded a pass to virtually anyone who turned up. And if anything, my French has got worse over the intervening years. But even back then (thanks to a school boy appreciation of Jaine Birkin's Je Taime) it was clear that French was a language of love.
So I'm not qualified to comment on the lyrical content, but what I can say is that this is a quite exquisite album. It's not a sing along affair like much of Guy's previous output. It's a gentle, reflective album with wonderful melodies and sultry vocals.
As with most concept albums there is a distinctive ambience running through it. It's hard to describe what that is. It oozes 'va voom' in the same way that Je Taime did so many years before. But within that, a number of styles feature – piano led ballads, French music hall (Poussières d'étolies uses accordion and occasional 'Robbie' chord sequences), sweeping orchestrals, and pop. For me, personal favourites are Les Amants d'Edinbourg which has a distinct Tubular Bells feel and Les Fleurs de Mai which is hypnotic in a Pet Shop Boys / Enigma sort of way. Throughout, the vocals are breathy and sexually charged.
Don't be put off by the French language tag. Millions of Brits head across the Channel each year with a well-thumbed phrase book an essential companion. Well, The Isis Project is a damn good excuse to get a bit more use out of it. Sublime.
****
Review by Pete Whalley