Almighty live souvenir from Godsmack...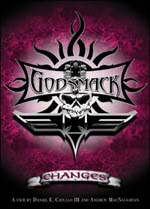 I must admit that this is my first ever experience of Godsmack. I seem to have been a victim of my own silly prejudice against bands that have the word God in their name.
Not that I am a church going Christian, or anything like that. But I was and still dubious of bands that have that 3 letter word somewhere in their name.
Changes is Godsmack's first ever live DVD and it is really more than that. The DVD is presented as a film and can be viewed just as that. You can watch the film, as the concert is mixed in with interviews and on the road footage which can be annoying and can spoil the event of watching a concert film. If this is not to your liking you can choose to watch only the songs, which is fine with me.
The quality of the concert footage is stunning, multiple cameras superbly catch Godsmack in all their glory. The editing is spot on, the camera panning to the individual band member when it is their turn to take the spotlight.
The sound quality nothing short of magnificent, I listened in stereo, but with options for 4 different sound settings, I am sure in 5.1 this would sound even better.
Being a Godsmack first-timer, I had absolutely no idea what they would sound like.
All my fears were laid to rest half way through the opening salvo of , 'Straight Out Of Line'. A furious twin guitar driven heavy groove laden kick of power fury was thrown into my face!
All 13 songs on offer would seem to represent Godsmack at their finest, and with the band's stage presence and muscianship, back up a fine selection of quality songs.
Not much in the way of extra, besides the aforementioned 2 ways of watching the DVD, the sound slection and a photo gallery.
If you already a fan this is a must, if your like me new to Godmack, this is a pefect introduction.
*****
Review by Graham Boyle