Ten year potted history of rock culture...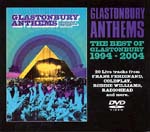 Ten years of the premier UK rock festival, here enshrined on one DVD in less than two hours.
Always a snag with highlights, but this DVD may be too eclectic for some tastes, somewhat equivalent to the Jools Holland TV shows. Interestingly, 30,000-plus punters voted for the tracklisting via the web.
It is highly unlikely that Primal Scream and Levellers lovers will want to endure Robbie Williams or Basement Jaxx. What the package does, though, is illustrate the wide range of acts to appear at this Fest and the variety of genres, and it succeeds as a brief summation of rock culture in the past five years. A chronicle of the great and the good, topped with Macca's 2004 appearance and 'Hey Jude' and including Franz Ferdinand, Coldplay, Blur and Radiohead.
Festival watchers may find the extras more enlightening: an aerial tour of the site, a 1995 interview with the festival organiser Michael Eaves (who looks likes he was the model for Gentle Giant's logo) and footage from the 1971 festival documentary.
The latter shows the Festival in its true post-sixties hippie glory, before becoming progressively sanitized in every sense of the word. One can only hope that early performer footage is resurrected too, along with the tie-dye shirts, painted breasts and, it has to be said, a certain innocence.
***
Review by David Randall