The Gillan Story by those that were there...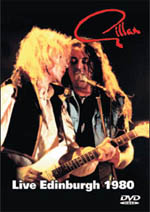 This gig was a 25 minute fragment recorded by Scottish TV in 1980. It shows a band at the apex - they tumbled a couple of years later. The Mk II Gillan was far rockier than the earlier mid-seventies IGB jazz-rock incarnation. Key in the band's rejuvenation was Bernie Tormé, one of our most underrated players, who contributed both guitar fireworks and enhanced the band's stage presence.
Tracks include a frantic 'Unchain Your Brain' and the bluesy 'If You Believe In Me' both from 'Glory Road' the album that had taken the band to the top of the charts.
The short TV gig is bolstered by archive footage and a video for Tormé and John McCoy's new band GMT. GRTR's Joe Geesin authored the excellent band history and the added gallery make for a rounded package.
But perhaps the best part of this DVD, for fans, is the lengthy interview with the band members (without Ian Gillan). There was always a begrudging undercurrent post-1982 and this section helps throw some light on the problem.
****
Review by David Randall