Beware old men in raincoats...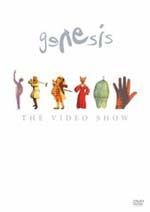 Timed to coincide with The Platinum Collection - a three CD career retrospective, The Video Show brings together for the first time all 32 - yes, 32 - Genesis promotional videos. Many are rare and Iíd be amazed if anyone had seen them all (apart, from maybe the band!).
Naturally, as video wasnít around in the early years, the videos come mostly from the second and third decades of the bandís career - the eighties and nineties.
In fact, Peter Gabriel appears only fleetingly - in a 1999 version of Carpet Crawlers and apart from the Trick Of A Tail videos (featuring Steve Hackett) and those from Calling All Stations, itís very much the Banks, Collins and Rutherford show.
And it starts really promisingly - the opening selection menu being made up entirely of characters from the bandís many album covers - a neat touch. And what a diverse package it turns out to be.
Everything from serious statements - famine (Tell Me Why) and child abuse (No Son Of Mine), through stage and concert footage to comedy - Benny Hill as tour security on Anything She Does and the Spitting Imagery of Land Of Confusion.
The great thing is that thereís a real sense of fun throughout. Clearly the band didnít take themselves too seriously (a charge often levied unjustly at prog rockers) and every chance is taken to poke fun at themselves. I Canít Dance, Jesus He Knows Me and Illegal Alien being cases in point.
Obviously as video technology improved and videos became big promotional tools so did the quality of the videos. So by the time we get to Calling All Stations era weíre talking serious budgets. But for fun, it doesnít come any better than I Canít Dance.
But what is it with the band and old raincoats? I lost count of the number of vids where one or more of them appeared in old gabardine. But who cares. I expected this to be a somewhat dour collection, but it turned out to be a blast. And if that's not enough, it comes in new 5.1 surround sound and stereo remix. Now thatís what I call a surprisingly excellent package.
****
Review by Pete Whalley
Related>> CD box review