Getting to know the Mac...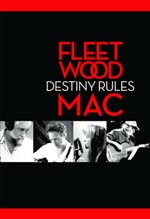 1967: Mac form in London. 1975: Buckingham and Nicks join the band. 1976: Fleetwood Mac reaches #1. 1977: Rumours stays at #1 for 6 months, but personal relationships unravel.
1979: Tusk, spearheaded by Buckingham widens the disunity. 1980 - 1987: The tensions remain and Buckingham quits in 1987. 1990-1995: Behind The Mask and Time disappoint. 1997: Buckingham briefly reunites for The Dance. It peaks at #1 in the charts.
The DVD picks up at that point and follows the band through to the release of Say You Will. And what a fabulous warts and all journey it is. Filmed in the main by 'fly on the wall' cameras this documentary is a brave move by the band. But it's a wonderful one.
The journey starts with Lindsey Buckingham having written and laid down large chunks of what would be his next a solo album. 'Look, you've been out of the spotlight for 7 years. If you want to give this body of work a wide exposure, get back with the rest of the band' his manager tells him.
Mick Fleetwood has been playing with Buckingham on his solo material for 18 months and with the success of The Dance, they decide to use this as the basis of a new Mac album. Christine McVie isn't interested (and when you see the pain that goes into the making of Say You Will you can understand why).
John McVie just wants to play his bass and leave ('I'm not interested in listening to the same track in the studio hundreds and thousands of times') and Mick is worried about commercial success.
But as you might expect, Buckingham and Nicks are the main protagonists. They agree on virtually nothing. Should it be a double? Who should produce it? What should the running order be? Buckingham is an obsessive perfectionist and Stevie a woman who knows her own mind.
It's quite hilarious when Lindsey tries to explain to her the grammatical errors in her lyrics. 'I'm a poet and that's how I write' she replies. And while it's clear that's the end of the conversation you can see Lindsey thinking 'well that's as may be, but I'm right you know'.
At points, you wonder that Say You Will Ever made it to the shops. And at points it nearly didn't. But what is clear is that they're all deeply passionate about the project but they come at it with very different personalities and approaches. And while that makes it an often painful journey, I guess that's what makes them great.
When the album is finally in the can, you can feel the sigh of relief from them all. And just when you thought it was safe to go back in the water, the bickering starts over tour rehearsals!
You came away from this DVD feeling you know each band member personally. And they'd probably all drive you nuts. It's completely absorbing - a 'must watch'.
*****
Review by Pete Whalley

Related>> Album Review (Say You Will)
Related>> DVD Review