Misplaced Childhood revisited...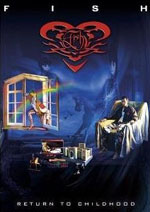 Recorded at the Paradiso in Amsterdam in November 2005 this includes Fish's recent revisit to the 'Misplaced Childhood' album performed in its entirety. The set list also includes some solo favourites such as 'Credo', 'Raingods Dancing' and 'Big Wedge'.
But it is the performance of 'Misplaced Childhood' that the audience is along to see and Fish doesn't disappoint. You can tell the crowd are really enjoying it all as they all join in a sea of clapping on the finale of the album 'White Feather'. Highlights include 'Kayleigh' and a passionate delivery of 'Heart of Lothian'.
The set closes with three further Marillion classics, namely 'Incommunicado' (dedicated to the late, great Tommy Vance), 'Market Square Heroes' and 'Fugazi'. The bonus interview with Fish is enjoyable bar the cameraman who really needs a lesson on zooming in/out on a subject.
A fitting live memento to a very enjoyable tour and one for all fans of Fish and Marillion.
****
Review by Jason Ritchie