FISH Bouillabaisse - The Best Of Snapper Music (2005)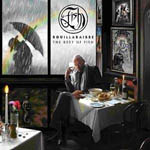 Fish left Marillion in 1989 (although some people still think he is in the band as was witnessed at this year's Guilfest crowd!) to embark on a varied career that is amply captured in this double CD 'Best Of'.
It comes in a lavish cover complete with superb cover artwork. Luckily you can judge this 'book' by its cover as the music contained inside is excellent.
There are three Marillion originals - 'Kayleigh', the beautiful 'Lavender' and 'Incommunicado' to add to the mix before you even embark on the solo offerings.
All his solo work is covered from 'Big Wedge' and my personal favourite Fish track, 'A Gentleman's Excuse Me' off his debut album, right up to his latest album 'Field Of Crows'.
Other gems includfe his duet with Sam Brown on 'Just Good Friends', the lavish effects strewn 'Credo' and 'Caledonia', from the Frankie Miller tribute album, that sees Fish deliver one of his best vocal performances ever.
Nice touch in putting the slower/ballads all on one disc with the rockier moments (or 'Rocketeer' as is titled) on the other disc.
For those who stopped listening after 'Vigil…' or still think the poor man fronts Marillion this is an essential and ideal starting point to a varied solo career.
Not really aimed at his hardcore fans as they will doubtless have everything on here although some may like it just for the cover art work and poster inside!
****½
Review by Jason Ritchie