FATES WARNING 'X' Metal Blade (2004)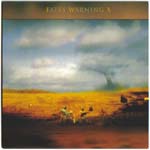 For the second time since I started working for Get Ready to Rock, I am in the difficult position of having to choose those that in my humble opinion were the five most important albums of this year. Yes, it is almost mid October and we are fast approaching the end of a very important and productive year for Heavy Metal.
Sitting there, in front of my CD collection I was looking through the large number of promos (no, I am not complaining) that I have received till now, and my anxiety was becoming even stronger - the same anxiety that you have every time that you have to make a new review. 'Will I be able to give justice to the artistís work?', 'who am I to say whatís good or not?', 'will I be excited about this album after a couple of months?' are some of the questions that have been torturing my mind for quite a while now.
How am I ever going to decide which are the best five albums of the year out of so many good releases?
Well, my wise countrymen say that in most cases, the answer to your every problem lies there in front of youÖhow right they are! I have just received another parcel from Metal Blade which contains (among others), Fates Warningís new and long-awaited album 'X'.
I went straight to my CD player and with all the respect thatís suited to this great band, I pushed the play button!
The first notes from 'Left Home' filled the room, and I was left once again standing there looking like a fool! This is the amazing thing about every new release from this unique band: even though you are listening to brand new material, there is a very specific feeling for you to experience, like the familiar smile of your mother or the kiss from your loved one. Jim Matheosí acoustic guitar theme and Ray Alderís passionate vocals left no room for doubt - 'X' is another top effort from a quartet that does not only explore their own new worlds of creativity, but are also bringing to the surface feelings that most of us are struggling to keep deep inside!
Even though I do not have the credits of the songs, I bet you that 'Simple Human' is Ray Alderís composition. Itís the kind of song that you would normally expect to find on the next 'Engine' album (Rayís own band) - one of the heaviest compositions of this release. Closer to the spirit of Disconnected (the bandís previous studio effort), 'River Wide Ocean Deep' is another 'painful' but at the same time enjoyable composition with the addition of female vocals that also give a certain oriental atmosphere to the song.
Itís been a while since Fates Warning have written a genuinely 'optimistic' composition, and thatís exactly what 'Another Perfect Day' is all about Ė an up-tempo song that will cool things down a bit. Memories from my childhood were awakened by 'Heal Me', a song whose melancholic intro is quite similar to that of 'Chasing Time' (taken from the album 'Perfect Symmetry') - that of course before the third minute when another mind-blowing guitar riff will raise your adrenaline levels to their limit.
This time, the signal for the new attack is given by Joe Veraís bass guitar - 'Sequence #7' is on its way and thereís no way to escape. This is the second time that you get 'oriental' musical references on this album, but they are presented in such a way that they will be immediately accepted by the vast majority of the bandís fans. The transition to 'Crawl', the following song of the album, is such that it will not be easily noted. One of the songs of the album that will stick in your mind is 'A Handful of Doubt' a retrospect on the bandís career so farÖno one is going to leave this room before the therapy is over!
We are two songs before the end of the bandís tenth studio release, but Matheos and Co have not said their last word yet. When the guitar riff of 'Stranger (with a familiar face)' proudly revealed itself to me, I thought that I was listening to the new WASP album.
Fast and furious like the riffs that are normally used by Blackie Lawlessí outfit, 'Stranger (with a familiar face)' is the last anxious attempt of the band to exorcise its demons before the melancholic piano melodies of 'Wish' bring you to your knees and fill your soul with sorrow.
The very last guitar riff of 'X' will mark a new era for Fates Warning. It is not a secret that this was the last album with Mark Zonder behind the drum kit. Who is going to replace him and whether they will be able to fill in this huge gap is to be seen in the future. For the time being letís all enjoy this monument of metal that answers to the name 'X'. Somehow giving only five stars to this album seems like an insult!
*****
Review by John Stefanis