EVERGREY '
'The Inner Circle (Inside Out 08560732)(2004)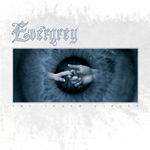 One of the few releases due out in the early part of the year that I was eagerly awaiting (along with Power Quest, TNT and Intense), having discovered the delights of all things progressive metal via Charlie Farrell and the Inside Out roster. Now Inside Out are THE label for classy progressive metal bands and they come none better then Evergrey.
The band's last album, 'Recreation Day' was one of last year's highlights and they had big expectations in my eyes with this follow-up release. Again they don't shy away lyrically tackling child abuse and religious fanatics (Catholic priests were targeted on 'Recreation Day' using religion to cover-up child abuse).
So does it live up to expectations? A resounding yes! From the off its classy metal with 'A Touch of Blessing'. Or how about 'Ambassador'? Superb pounding backbeat and the guitar solo midway through a spoken word piece is a stroke of genius. For a change in tempo try 'Waking Up Blind', where Englund gets to show his mellow vocal chords backed by light percussion and acoustic guitars. Closing the album we have 'When The Walls Go Down', a tour de force musically with strings and keys melding into crashing guitar overlaid with spoken word - a religious fanatic ranting. This is the sort of thing Queensryche should be doing now.
Tom S Englund has an amazing vocal range from melodic power metal to dark, deep vocals (used to great effect as backing vocals on 'Ambassador'). Evergrey do really have their own sound and keyboards are used throughout to great effect, rather than just as intro/outros as with many bands. Quick mention to new drummer Jonas Ekdahl, who fits in seamlessly and keeps a solid backbeat throughout.
This album could see the band take a big leap up sales and popularity wise. You'll be lucky to hear a better progressive metal album this year!
Label website
Related>>Album review
*****
Review by Jason Ritchie