ELLA BELL 'Drink To Love' (2005)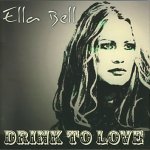 From the cover Ella looks a bit of a cutie. The beginning of the opening track Everbody Know immediately brings Kate Bush to mind, but as the track progresses Ella's vocals mellow and the song turns into be a gentle, slow paced number.
The title track follows – another gentle number and it's difficult to know what sort of direction or type of album this is – its not folk, its not country, and its not rock. The best I can come up with is middle of the road. And that's not meant as a criticism.
Lover's Sigh and Black Sea do nothing to dispel this – slowed paced numbers with whispery vocals – almost the sort of stuff you might expect to here in a late night jazz club. And so it goes on.
Ella quotes her influences as the darker elements of Siouxsie, The Cure, Talking Heads and Pink Floyd. And while you can hear the linkage, her own delivery is of a more (electric) folk and country ballad style.
If you think Ella could be your sort of girl you can hear the title track in ITV1's new crime series Donovan on June. Its also available for free download at www.lunarecords.co.uk. And if you want the album you can get it over the counter at any Beanscene coffe house or from the aforementioned website.
Actually, you can sort of imagine visiting a coffee shop ordering a latte and saying – what's that CD you're playing? Its warm and gentle, but I suspect its not gonna set fire to anyone's haystack. But then maybe its not meant to.
***
Review by Pete Whalley