Just witnessed your best live gig?..send us a review!
ELEANOR McEVOY
Buxton, The Eagle Hotel 8 July 2004
The omens weren't good - my wife had declined to travel on the pretext of holiday packing, a wrong turn on the M56 and Eleanor had recently split with Yola and Early Hours collaborator Brian Connor whose delicate keyboard work had been the perfect foil for her songs - both live and in the studio. And having witnessed two wonderful gigs on the last tour (Wentworth and Dunkeld) could, I wondered, a solo tour/gig by the silver throated Irish songstress possibly live up to those heady heights? Or the Yola tour of 12 months earlier? I'll be honest, I had my doubts.
So after a brief diversion around the Manchester ring road, the Eagle Hotel was surprisingly easy to find (although truth be told we stumbled across it, rather than found it!). Eleanor McEvoy gigs are a wonder in many ways - where does she find the venues? Invariably, they're small function rooms hidden behind pubs, over golf clubs or in the back of beyond. And this was no exception - a small, dark, decidedly cool (and I mean 'cool' as in 'I wish I'd brought my jacket') room at the back of the Eagle Hotel on Buxton Main Street which is used as a regular Thursday night live music venue.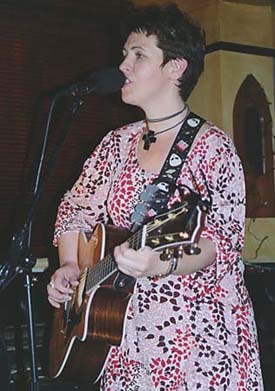 The first thing that was different was the light show - there was one! A dimmed 1960's 'liquid light' effect reminiscent of early Pink Floyd shows. And in the low roofed room it gave the stage (a small raised area) a warm and cozy effect - perhaps the omens weren't so bad after all?
As on the last tour, Eleanor kicked off with 'Days Roll By' from the Early Hours album and showed herself to be in fine vocal form. This was followed up with a stunning (new) slow blues number 'The Way You Wear Your Troubles' that, for me, set the standard for the evening. The set followed the pattern of most Eleanor gigs - a fair smattering from across her catalogue, the older numbers like 'The Fire Overhead', 'Whisper A Prayer To Moon' and 'Apologise' in particular benefiting from the stripped back acoustic delivery.
In the main, the set was just Eleanor and her acoustic, but her vocals were so mesmerising and the songs so strong that frankly, you don't need much else. She even used the guitar body to provide a hypnotic percussive backing to 'Isn't It A Little Late'. And the fiddle was given an airing for the exquisite 'Driving Home From Butlers' and a traditional Irish jig/reel that had the crowd stomping and clapping.
Of course, no Eleanor gig would be complete without a rendition of 'Only A Woman's Heart'. It's strange how this song takes an audience. Some sing along like a football crowd, others listen in rapt silence. And despite the fact that part of the Buxton crowd was at times, frankly rude (some seemed more interested in the bar than the stage) this was one of the most uplifting versions I've heard. And as Eleanor moved away from the mic to sing 'au naturelle', the whole crowd - you could have heard a pin drop - provided a gentle, hushed and reverent accompaniment. Quite wonderful.
And before you knew it, the evening was gone. Eleanor seemed more relaxed and confident than in previous gigs. I may have imagined that. But it was almost as if, performing solo, she was able to focus on delivering each song as the mood took her, undistracted by the confines of working as a duo. It really is unusual to be able to see an artist of this calibre so 'up close and personal', but that's the way Eleanor likes it. Good luck to her I say. The people in front of me travelled 50 miles from Litchfield. They wouldn't have been disappointed. So if Eleanor is playing in a town near you (or even somewhere a bit further afield) try and catch her live. It's a rare experience.
Review: Pete Whalley
Set-list
Days Roll By - The Way You Wear Your Troubles - Did I Hurt You? - The Fire Overhead - The Rain Falls - I Hear You Breathing In - Ave Maria - Isn't It A Little Late? - Easy In Love - Whisper a Prayer To The Moon - Did You Tell Him - Memphis Tennessee - Driving Home From Butler's - Traditional jig/reel - I Got You To See Me Through - Carey (Joni Mitchell)