Silverline get inside the music with classic rock DVD-Audio compilation...
This 11-track compilation is an excellent showcase for the DVD-Audio format. It plays on an ordinary DVD player but with the right set-up yields Dolby Digital 5.1 audio (six-channel surround sound).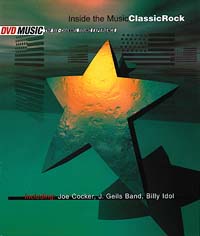 Silverline have put together an interesting and somewhat atypical classic rock sampler for their 'Inside The Music' series with tracks from George Thorogood (Bad To The Bone) and J.Geils Band (Centerfold) rubbing shoulders with the less familiar likes of Michael Stanley Band (My Town) and Sugarloaf (Green-Eyed Lady). It's likely that with any compilation there will be particular tracks that bring back specific memories for the listener. I can remember first hearing Pat Benatar's 'Heartbreaker'' (included here) blasted out by a Youth Hostel warden during a touring holiday in the eighties, and being mighty impressed.
Each track is accompanied by on-disc visuals (a sort of photograph album for each artist) and whilst this compilation is perhaps a little American and early eighties in emphasis it is certainly a very good introduction to the sonic delights of the DVD-Audio format.
***
Review by David Randall
© 2002 All rights reserved.