Dishwalla dish up excellent DVD-A with bonus features...
DISHWALLA Opaline (Silverline DVD-A 287009-9) (2003)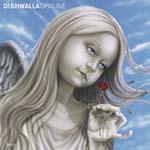 Dishwalla belong to that new breed of American bands who get better with each album and produce fine guitar-driven contemporary melodic rock, well-constructed and performed. Their album 'Pet Your Friends' received a lot of attention in the States with its blend of pop and guitar rock and for a period they were feted on rock radio and VH-1.
Now given the DVD-A treatment, 2002's 'Opaline' is what the medium was made for. This is an excellent showpiece, with on-disc visuals, lyrics, photo gallery and, more interestingly, the band's audio commentary about each track. This adds a certain filmic quality to the whole production but it demonstrates just how versatile the DVD-Audio format can be. I just wish you could play these things in the car CD player - you'll need to be in front of a TV screen or a computer to get the full benefit although I am sure we will all upgrade to in-car DVD in the future?
The sound as you would expect is superb, indeed if you have this album on CD you should really consider getting this enhanced version. There's also exclusive video footage of the band. There are some real standouts on this offering from the eastern-tinged title track, through 'Mad Life' which will appeal to followers of Coldplay through to David Gray and 'When Morning Comes' which has a glorious guitar riff and is the heaviest here. 'Candleburn' with its mellow, piano-led groove, is another classic but the fizzing guitars aren't far away. Essentially, Dishwalla major in the anthemic, persuasive, immaculately conceived calling card. And this album, now enhanced, has a full deck.
Somewhere In The Middle
© 2003 Immergent Records/Silverline Records. All rights reserved.
*****
Review by David Randall
© 2003 All rights reserved.