Purple's finest hour?...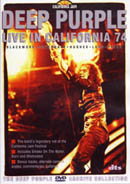 Deep Purple's California Jam set is now legendary, and the video now hard to find. At long last on DVD, chock with bonuses (camera angles, intros etc plus extra tracks, and a booklet) it'll please any Purple fan and more.
Having seen DP at Knewbworth I can vouch for what a festival spectacle they are, and live they're one of the top bands around (still are too).
But tensions were high, as the promoters tried to force the band on early, while it was still light. Daylight puts a real crimp on a light show, you know.
That said, new boy David Coverdale is on real form, the inter song banter hiding any nerves well, a real step up from hairdressing. Fellow new kid Glenn Hughes was more of a veteran and fills in really well.
Opener "Burn", the title track of the album being promoted and first to feature this new line-up, goes down extremely well, and the sound quality hear reflects both the band's power and crowd enthusiasm.
With "Might Just Take Your Life" and "Lay Down Stay Down" Jon Lord's keyboards are distinct and prominent.
A guitar solo opens the legendary "Mistreated", Blackmore was on good form that night. Maybe his anger helped; he was famously pissed off at having a large camera virtually up his nose for most of the gig, and he's a moody bastard at the best of times anyway. Whatever, there's no doubting his talent and performance here.
With the sun setting the lights came on, the back drop Rainbow becoming more prominent.
"Smoke On The Water" gets a rapturous response (as you'd expect), and the 20 minute "You Fool No One" is another treat.
And to finish (now dark, lights and volume up full), probably Deep Purple's finest hour and certainly best work, "Space Truckin'" sees both band and crowd at their best. When it comes to seeing Deep Purple live, not even Smoke…. can touch this.
When it comes to guitar trashing guitar wrecking solos, this particular set is more legendary than most. This track alone Blackmore is on his second guitar when he trashes it on the aforementioned annoying camera before throwing the pieces into the crowd. Next guitar is played by foot, rest of band still thundering on, before Blackmore uses petrol to set fire to the amps which, when extinguished, are hauled into the crowd. Some stage show!
The top marks score goes for Space Truckin' alone. Everything else is a bonus.
*****
Review by Joe Geesin