Rare footage of Purple in their prime...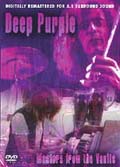 Rare and unseen footage of Deep Purple performing for the TV cameras in the early 70s. Formative Mark II Purple.
Speed King opens at just that - a frenetic speed in front of a Granada studio audience - half of whom haven't as much hair between them as the band. The footage is excellent, the performance wonderful. No,No No is reminiscent of The Experience and an early video of sorts. Child In Time is back in front of the studio audience and is, well...Child In Time. An early version maybe, but as blistering as any you'll hear. Highway Star is another 'video' - live footage over a psychedelic background. And whether it was done at the time or recently, it looks really rather good.
Wring That Neck is excellent, the band and Blackmore in particular, on fire. Hallelujah is a version of a Mark I song - a b&w white 'video' with a Mama And Papas feel to it, but with a rock edge - Gillan's screams and Blackmore's searing guitar. Improv/Mandrake Root sees a loose jam (with George Best looking on) which shows Purple at their meandering best, with Blackmore orchestrating.
From here on in it's four much later Gillan tracks - Demon's Eye, When A Blind Man Cries, Lucille, and the inevitable Smoke On The Water taken from an unspecified theatre gig. Again the sound and vision quality is excellent.
The whole DVD may only last 62 minutes, but this is exactly what something 'from the vaults' should be - rare footage of a great band, in top form and in great condition.
****
Review by Pete Whalley
Related>> DVD review