DEEP PURPLE 'Burn (30th Anniversary edition)'
EMI (2004)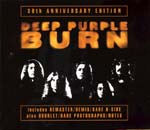 This is probably the best album I never had. I only ever possessed a cassette taped copy and for years I've eyed the budget cd racks and though 'if only it were remastered'.
That time is now - the 30th anniversary release by the seminal Deep Purple Mark III line up.
Up until Burn, Purple had been a wonderfully oiled heavy rock outfit capable of outstanding brilliance and a string of classic albums - In Rock, Machine Head and Made In Japan.
With the loss of Glover and Gillan most bands would have folded or imported others of superstar status (Paul Rogers and Phil Lynott were on the shopping list). But instead, Purple recruited two relative unknowns - Glen Hughes from the up and coming Trapeze and David Coverdale - a shop assistant in a Yorkshire menswear shop.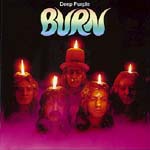 The result, a cataclysmic implosion of styles as rock met blues and funk to produce one of the finest rock albums of the mid 70s. A template for a more commercial approach to rock that many, including Whitesnake and Rainbow, would later successfully follow.
And this remastered release doesn't disappoint. From the opening bars of Burn the sound virtually rips your speaker cones apart - it's an assault on the senses - the vibrancy of Blackmore's guitar, the urgency of Lord's keyboards, the sublime vocals of Coverdale and Hughes.
As you reel from the opening blow, Lord's Hammond drifts in, reminiscent of Woman From Tokyo, but Might Just Take Your Life is more typical of this album's more soulful approach.
The album is a subtle bending of styles. The sheer pace of Burn, You Fool No One and 'A' 200. The bar room blues of Lay Down, Stay Down and What's Going On Here. The slow burning funk of Sail Away and every one of the wonderful 7 minutes 27 seconds of Mistreated.
By all accounts, there wasn't much 'extra' studio footage around, so the bonus tracks here are restricted to 5 remixes, including Coronarias Redig (an instrumental single b-side).
Of the others (Burn, Mistreated, You Fool No One and Sail Away) you'd be hard pushed to spot the difference, although the remixing does freshen up the sound and add a little extra 'edge'.
But for me, the stars of the show are Coverdale and Hughes - the remastering (or maybe it was because I only had a crappy tape copy) really make you appreciate the extent to which Coverdale and Hughes share vocals and they're both quite wonderful.
Let's face it, we all knew what Paice, Blackmore and Lord could deliver. But Coverdale and Hughes had to prove they had what it takes. And how.
To sum it up, it's a bit like meeting an old flame 30 years down the line, to discover that she's had a face lift, is hotter than hell, and can still get your rocks off. Awesome.
*****
Review by Pete Whalley

Related>> Album Review
Related>> DVD Review