DAVID CROSS 'Closer Than Skin' Noisy Records (2005)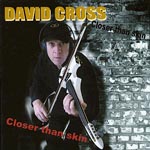 David Cross was the volinist with King Crimson back in the 70ís and this is his fifth solo outing. Another King Crimson old boy pops up in Richard Palmer-James who composed the lyrics.
The violin parts are very good but oh dear the vocals are at best mediocre. They just arenít strong or distinctive enough to rise above the music and frankly tend to drone on a bit at times.
You need a good, strong prog rock orientated vocalist on here like John Wetton.
Maybe worth a go if you like King Crimson and for the violin playing which is at times breathtaking.
****
Review by Jason Ritchie
States Of Deception
© 2005 David Cross. All rights reserved.
***** Out of this world | **** Pretty damn fine |
*** OK, approach with caution unless you are a fan |
** Instant bargain bin fodder | * Ugly. Just ugly