DAVID BYRON Man Of Yesterday - The Anthology
Castle CMEDD1165 (79:45) (79:58) (2005)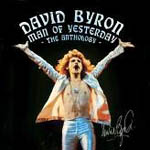 The operatic voice of David Byron is best known for fronting prog rockers Uriah Heep. In fact for many he was the voice of Uriah Heep, singing on their heyday material from the early to mid 70s. But Heep went on successfully without him, but sadly Davidís solo career up to his untimely death in 1985 never matched earlier successes.
This compilation covers the highlights from his career, the operatic organ grinding hits with Uriah Heep, the often overlooked and sometimes excellent solo material, the failed supergoup Rough Diamond, and even a couple of tracks from when Uriah Heep were still called Spice. Oh, and thereís the unnecessary and complete drivel of John Schroederís Witchi Tai To album. Interesting for real Heepophiles, but compared to the Uriah Heep material itís seriously cringeworthy.
The classic Heep material includes the epic Gypsy and the surprise hit Easy Liviní; material that will please many and introduce more to the powerful voice of David Byron.
The early solo material was too close to Heep, recorded while still in the band. Rough Diamond, a band featuring Clem Clempson, recorded one album to a scoffing media despite having some strong moments.
Byronís last work, which closes the second disc, featured guitarist Robin George and saxophonist Mel Collins in The Byron Band. Rebecca and the non album Every Inch Of The Way are true greats. These and some of the rarities and previously unreleased solo material make a mockery of the pre Heep material, proving itís the solo career that needs a genuine makeover rather than compilations with mixed blessings.
On a good day Byron was a class vocalist and a great frontman, with and without Uriah Heep. A good and well annotated introduction but some unnecessary duplication with the plethora of Uriah Heep reissues, and the continual discovery of Ďalternate versionsí and Ďsingle editsí is suspicious. Pick your moments carefully.
**½
Review by Joe Geesin