Seriously good Bowie gig from 1983...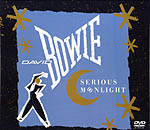 By the time of 1983's Serious Moonlight tour Bowie had remerged from his Thin White Duke and drug induced experimental years. He'd cleaned up his act and his Let's Dance album was provoking a worldwide resurgence of Bowiemania.
As a result we find Bowie in rude health - blonde perm, tanned and wearing suits with effortless cool. He'd got a great band around him featuring Earl Slick and Carlos Alomar on guitars and Tony Thompson on drums and this particular concert was recorded at the Pacific National Exhibition Coliseum, Vancouver in September 1983. Considering its vintage, the film and sound quality (5.1, DTS and dolby stereo) are exceptional.
It's difficult to think of another artist who could put a set such a wonderful set together while largely ignoring what many regard as the pinnacle of his career - the Ziggy / Aladdin era. Frankly, it's magnificent. Bowie's vocals are exceptional. OK, he may have dropped an octave or two since the early seventies, but by the end of the set he's performing as well as he's ever performed.
Earle Slick and Carlos Alomar shine and Bowie struts his stuff - both visually and vocally. He sweats his guts out and Let's Dance is a showstopper. His vocals on Sorrow are as good as or better than on the original. Life On Mars and China Girl are more highlights. Scary Monsters is blistering. And on Rebel Rebel he camps it up with effective use of strobes, natty footwork and rubber legs.
Earl Slick takes centre stage on White Light, White Heat, but doesn't have the rock and roll attitude of the late lamented Mick Ronson. The final third of the concert sees the quality control turned up to maximum - Cracked Actor is wonderfully theatrical and worthy of the admission price alone. Bowie dons a 12 string for an inspired Ashes To Ashes, while a white-hot Young Americans and an amazing version of Fame end the show.
On the minus side, each track is 'announced' by a thumbprint from the relevant era plus track title and year. Mildly interesting, but it breaks the flow. And there's the occasional naff digital effect - but thankfully they're relatively few and far between.
Extras? You get a 78 documentary - Ricochet - featuring the far Eastern leg of the tour that is interesting but non-essential.
But overall, this is an absolute must for any self respecting Bowie fan - of any era.
****½
Review by Peter Whalley