DAVID BOWIE 'The Platinum Collection'
3-CD Set EMI 3113042 (2005)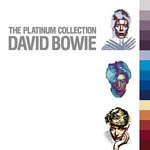 Does the world really need another David Bowie collection? They come around more frequently than buses and, it seems, more often than new output.
Cunningly released in time to go on Santaís list, this is likely to find its way into a few Christmas stockings, but letís be honest Ė just how many households are there without a previously released Bowie collection?
So what makes this one different to the rest? Well, itís a triple for a start. And with each disc crammed to the max, that makes it pretty good value for money.
But what it actually is, is a repackaging of the 1997 release The Best of David Bowie 1969/1974, and the 1998 release The Best of David Bowie 1974/1979, to which a third disc covering 1980/1987 has been added. So itís not comprehensive in that it doesnít cover anything from the last 18 years. And while no one would argue that the early years werenít Bowieís most prolific, he continues to release material worthy of an anthology collection. But we donít get any of his latter day material here.
Disc I covers twenty tracks from the Space Oddity, The Man Who Sold The World, Hunky Dory, Ziggy, Aladdin Sane, Pin Ups and Diamond Dogs era. And while strangely not in chronological order, it is a quite magnificent collection and very much the pick of the bunch. Nice inclusions are Velvet Goldmine and Bowieís own version of All The Young Dudes. But many of you will already have this collection.
And, you may quite possibly have disc 2 which covers David (live), Young Americans, Station To Station, and the Brian Eno supervised Low, Heroes and Lodger. The drugs were taking their toll throughout this era and while this experimental phase does have its fans, for me it wasnít his most memorable (or commercial) period. It nevertheless remains an impressive track listing, including all the hits and expected album tracks plus a few of the more unusual tracks such as John I'm Only Dancing (Again) and It's Hard To Be A Saint In The City.
Disc 3 follows suite through Scary Monsters, Letís Dance, Tonight, and Never Let Me Down, again including rarities like Alabama Song, Drowned Girl, the excellent Cat People, When The Wind Blows, and Underground. Like disc 2 itís peppered with hits, and like disc 2 a highly enjoyable romp down memory lane with nary a runt in sight. Iíd rate it as the second best disc here.
Which all in all, makes The Platinum Collection a pretty damn impressive collection. Of course, if you just want the hits thereís The Singles Collection double that youíll still find in the CD racks. But as an introduction to Bowie up to 1987 itís hard to fault. But as for you poor saps who have already invested in the original issues of disc 1 and 2, well youíre just going to have to wait for EMI to release the third disc individually.
Itís almost enough to make you invest in the re-mastered albums of your choice Ė for me, those that make up the first disc. But even those have been reissued more often than I change my underpants. All begins to make you feel a bit cynical doesnít it?
****
Review by Pete Whalley